Fijian Crafted Licenses
Began in June 2013 – We have 407 License Holders as of to date , the latest issue were  handed out in the  2019  National Women Expo in Suva by the  Minister for Industry, Trade and Tourism, Hon. Premila Kumar.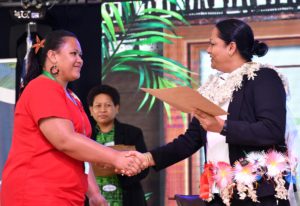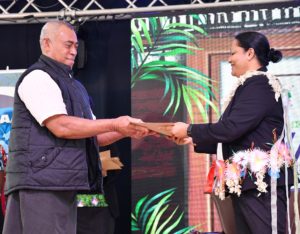 Nominees have been awarded their Fijian Crafted Licenses by the Ministry of Industry and Trade and comply with the rules and conditions for the use of Fijian Crafted Emblems, as detailed in Industry Emblem Regulations 2011.
The certification allows a member of the Fiji Craft Society to promote authentic Fijian Made Products and giving them an opportunity to empower craft practitioners showcase their skills at the International markets
Fijian Crafted is a brand that identifies and benchmarks Fijian quality, standards and promotes skilled craftsmanship
 Fijian Crafted logo provides the platform for our crafters to be mainstreamed into, and share in Fiji's economic growth.
The logo differentiates our authentic Fijian crafts, made by Fijian crafters with Fijian materials and contemporary pieces from handicraft made in other countries.
In summary we can truly say that the Fijian Crafted Brand is now acting as an authentic label which signifies the "real thing",  signifies  authenticity , that people can buy and value which is part of our cultures and traditions and hoping to be sustained and consistent to create a very resilient economy from within
 Positive Impacts for Fijian Crafted Brands
Craft Practitioners themselves have stated their greatest appreciations on the Governments initiatives which has made
Great promotions to large retailers such as Tapoos, Motibhais, Prouds, Jacks Handicrafts
Fiji Embassies have ordered Fijian Artifacts to be showcase in their overseas Missions
The Fijian Crafted Logo has empowered them especially the grassroots, in providing them with an avenue for income generation compared to the past years as they struggled to look for steady markets and the competitions faced with foreign products imported into the country.
It has made a huge difference by making them more recognized as makers of local products using our own sourced materials that Fiji is renowned of.
Tourist Markets and Public at large have now perceived the significance of choosing only genuine Fijian made artifacts, whether for their home decoration, gifting someone or taken abroad as souvenirs
has brought about high hopes for their everyday lives,
their sales have been much better with the launch of the Fijian Made and Buy Fijian Campaign
That more tourists are now attracted to their home made products.

AUTHENTIC HANDMADE & HAND CRAFTED
COMPLIANCE CRITERIA:USED BY FIJI ARTS COUNCIL IN APPROVING A LICENSE TO APPLICANTS
"Fijian crafted" – All handicraft which use as its major components locally sourced materials that are weaved, crafted, printed or painted and stringed to depict authentic Fijian Crafted. Products categorized in two groups namely traditional and contemporary products
Traditional Craft Certification Criteria
The craft process must be based on traditional Fijian craft processes from any of the 14 provinces of Fiji including Rotuma that depicts their own heritage. The craft product must be in one of the following traditional craft practices:

Tapa or masi
Wood carving
Mat Weaving
Pottery
Natural fiber weaving ( voivoi, kuta, wamere, bamboo, pine leaves, coconut leaves, magimagi, vau

The craft product must be 100% produced in Fiji
Raw materials for the craft product must be predominately locally sourced.
The craft product must be made from 100% locally sourced materials
The craft product must be 100% handcrafted with traditional tools. No machines can be used in the creation process.
Contemporary Craft Certification Criteria
Craft processes can be based on either traditional or contemporary techniques but do not adhere strictly to traditional craft processes and products. Craft processes certified by the contemporary craft criteria include-

Sewing
Patchwork/ Tie and Dye/ Screen Printing
Recycled material construction
Jewelry making using local shells, seeds, strings, recycled materials
Crochet
Visual Art Work – Painting on Canvas/ Masi

The production process for the final product must occur in Fiji
Raw materials for the product must be predominately locally sources unless local alternatives of equal quality and supply are not available. All recycled materials are considered local regardless of their primary origin.
Finishing and fixtures can be imported when local alternatives of equal quality are not available
Both traditional and contemporary craft will also be assessed on the following criteria:
Quality of Craftsmanship: Quality refers to the standard of technical skill and attention to detail in the production of a product. Quality is assess based on the craft process but generally include:

Suitable and good quality raw materials
Proper processing of raw materials for attractiveness, longevity and durability
Attention to detail in the production process
Technical proficiency of the production skills
Strong construction and durability of the product, particularly in relations to the purpose of the product
The level of finishing of the product- finishing touches of the product is very important
Creativity: Creativity refers to the innovative use of one's own original designs, patterns, colors, etc. in any of the craft production processes. Creativity can include a product's design, shape, form, construction, color, scale and proportions.
Crafts that are not mass produced
 The above criteria's are to be in place so that any Licensed Crafts practitioner is vigilant enough to respect and recognize the significance of the authentic branding at all times.
FIJIAN CRAFTED LICENSE HOLDERS
REPRESENTING THE FOUR MAIN DIVISIONAL 2013-2019
Traditional Skills –
Weaving
Masi Making
Pottering and Ceramics
Wood Carving
Contemporary Skills
Textiles ( Screen Printing/ Tie and Dye/ Patch Work/ Crochet)
Adornments ( Hand bags/ Clutch purses/ Jewelries)
Home and Leisure ( wall hangings/ Lampshades/ products from own creations/ photo frames
 

DIVISION

TRADITIONAL SKILLS
CONTEMPORARY SKILLS

TOTAL

 

1.
CENTRAL

(TAILEVU/ REWA/ NAITASIRI/ SERUA/ NAMOSI/ SUVA NAUSORI CORRIDOR)

 

 

 

63

 

75

 

148
DIVISION
TRADITIONAL SKILLS
CONTEMPORARY SKILLS

TOTAL

 

2.
EASTERN

( LAU/ KADAVU/ LOMAIVITI/ ROTUMA)

47

10

57
DIVISION
TRADITIONAL SKILLS
CONTEMPORARY SKILLS

TOTAL

 

3.
WESTERN

(NADROGA NAVOSA/ NADI/ LAUTOKA/ BA/ TAVUA/ RAKIRAKI/ YASAWA)

53

44

97
DIVISION
TRADITIONAL SKILLS
CONTEMPORARY SKILLS
TOTAL
4.
NORTHERN

(CAKAUDROVE/ BUA/ MACUATA)

78

27

105
FIJIAN CRAFTED LICENSE HOLDERS

No. of FIJIAN CRAFTED LICENSE HOLDERS
TOTAL FIJIAN CRAFTED LICENSE HOLDERS TO DATE – 407 RECIPIENTS